Rental of second-hand Xerox printers and customization service
At D&O Partners, we understand the importance of offering solutions tailored to the specific needs of each company, whether in terms of printing equipment or budget management, which is why we offer customization services for your devices as well as the rental (or purchase) of second-hand Xerox printers.
We offer a customization service with stickering on Xerox machines, whether new or used, to integrate them harmoniously into your office or to show off your corporate image at important events.
Second-hand machine financing is designed for customers looking for a cost-effective alternative to new equipment, while still benefiting from quality machines. Moreover, we also offer the possibility of renting used printers on a short-term basis, for events or fairs and exhibitions for example.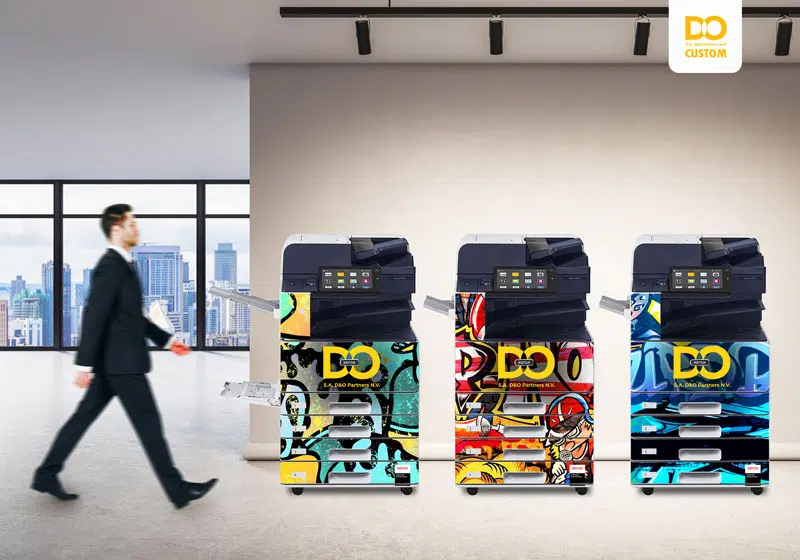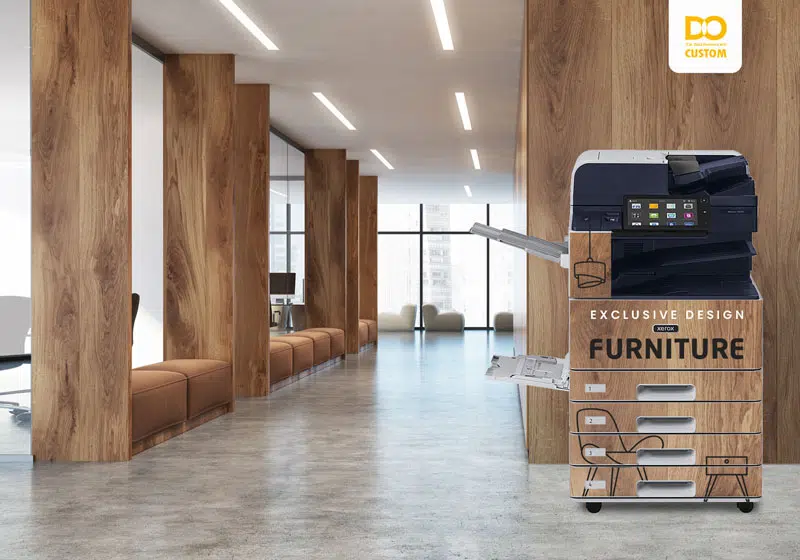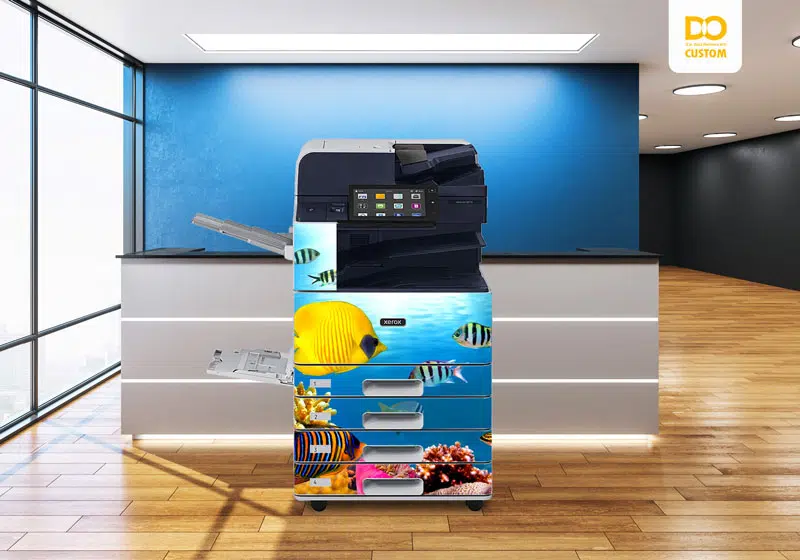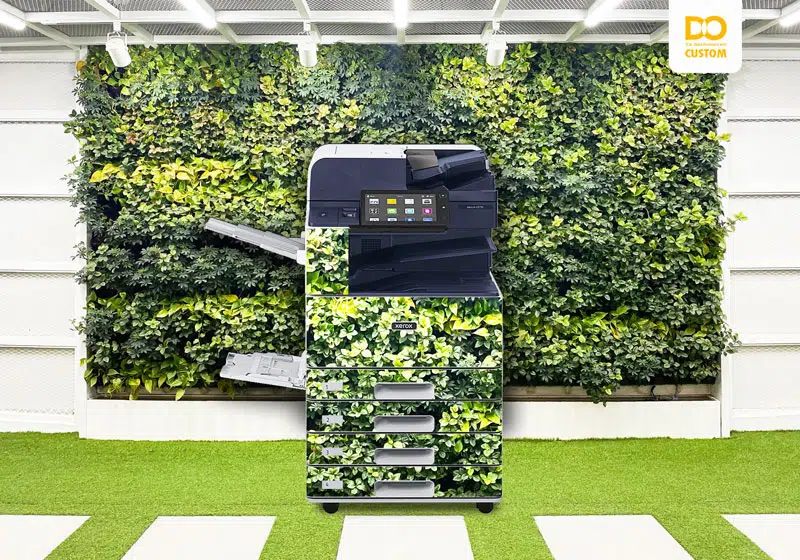 Customization service: Xerox printers in your company's image
Why personalize your printer?
We believe that it is important for your company to stand out from the crowd and convey a consistent, professional image, which is why we offer a personalization service with stickering on both new and used Xerox printers.
Harmonious integration in the office: By customizing the appearance of your Xerox printer, you can adapt it to the style of your premises. By choosing patterns or colors that blend in perfectly with the environment, you create a pleasant, harmonious ambience in your office.
Department recognition: In large companies with several departments, printer personalization can be used to easily identify each team's device, promoting efficient resource management.
Adaptation to special events: For internal or external events such as important meetings or special occasions, customizing your printer can enhance your company's image, or add a touch of conviviality and create a festive atmosphere.
How to customize your Xerox printer?
Choice of design: Our team of specialized experts will advise and assist you in choosing the design that best suits your corporate identity and office environment.
Personalization software: We use state-of-the-art software to achieve precise, high-quality personalization on your Xerox printer, whether it's to apply your logo, colors or any other graphic element.
Professional printing: Thanks to our high-quality production printers, we produce professional printing for impeccable, long-lasting results.
Rental of second-hand Xerox printers: an affordable professional solution
Why renting second-hand printers?
In today's ever-changing business world, it's essential to choose solutions that meet your needs while keeping costs under control. Renting used Xerox printers is an ideal alternative for companies wishing to benefit from high-performance equipment without committing a substantial budget.
All our machines come either from our customers or from our showroom. That way, we know exactly their history and origin.
When the machines arrive in our stock, and after resetting the data, a Xerox technician comes to carry out a complete checkup to certify that everything is in perfect working order. If a part needs replacing, it will be done before leaving our premises.
As the machines are covered by a maintenance contract, all consumables (except staples and paper) and technical interventions (parts and labor) are included in your package.
Advantages of renting second-hand printers from D&O Partners
Flexible and cost-effective solution: Our leasing offer enables you to rent a reconditioned printer for a fixed contract period, giving you the freedom to choose the period that best suits your needs, whether for 12 months or for a longer rental period (see also short-term rental options below).
Quality reconditioned equipment: All our used printers are carefully selected, overhauled and reconditioned by our experts to guarantee their perfect operation and reliability. This way, you benefit from high-performance equipment at lower cost.
Maintenance/servicing included: Our rental contract includes a comprehensive maintenance package, so you can benefit from technical support and assistance in the event of breakdown. With that, you can work with complete peace of mind and focus on your core business.
Short-term rental: Get printers for your events
Your partner for professional events
We know that professional events require reliable, high-performance printing equipment, which is why we offer used Xerox printers on short-term rental to meet your specific needs.
The benefits of short-term rental
Flexibility: Renting a printer for a short or one-off event gives you access to the right equipment without making a long-term commitment. You can rent our Xerox printers for the exact duration of the event, from a few days to a few weeks. Once the event is over, the equipment is returned to the supplier, avoiding any unnecessary clutter or storage.
Cost savings: Short-term rental offers you a cost-effective solution, avoiding the purchase or long-term rental of equipment that would only be used temporarily.
Event solution: Short-term rental of Xerox printers is ideal for events such as trade shows, fairs, conferences and corporate events. You can get professional, high-performance equipment to cover event-specific printing needs without investing in permanent equipment.
Discover our financing plans
Once we've found the solution that best suits your needs, D&O Partners can offer you a range of financing packages precisely tailored to your business. Thanks to our reliable financial partners, our totally flexible and tailor-made solutions take into account your investment plans, tax strategies and budgetary constraints.
The rental of second-hand Xerox printers coupled with our customization service offers the right answer for companies wishing to combine performance, economy and brand image. Contact us today to find out how we can help you optimize your print fleet with our leasing and/or customization options.
Do you want to learn more about it?