Technical service, maintenance and consumables for Xerox printers
Technical service and maintenance contracts
Discover our professional services for Xerox printers and MFPs, as well as the benefits of customized maintenance contracts offered by D&O Partners. Thanks to Xerox, we can offer you high-quality technical support and maintenance kits to keep your equipment running smoothly over the long term, optimizing its lifespan.
Page Pack maintenance contract - Opt for a complete maintenance solution
To enable you to focus fully on your business, while retaining total peace of mind regarding the operation of your Xerox MFPs and printers, we recommend that you sign up to our Page Pack maintenance contract. The Page Pack contract is a complete maintenance solution specially designed for Xerox multifunction printers. It includes:
The supply of consumables and maintenance kits (toners, drums, ovens, etc. and other spare parts) for your Xerox machine (except paper and staples, which you can order by calling us on 02 643 42 41 or directly online on our website).
Costs related to technical interventions (technician travel, parts and labor).
Access to the help desk for technical support.
Thanks to our online consumables ordering tool, you can order 24/7 via your computer or smartphone.
Invoicing is based on a fixed cost per page, whether in color or black & white, regardless of your print coverage.
This way, you stay in control of your printing costs and your invoices, thanks to details of the number of color and black & white pages actually printed.
Choose now for a maintenance contract tailored to your company's specific needs to keep your Xerox printers running at peak performance, all at the best price.
Xerox ASR solution - for automatic supply of consumables
At D&O Partners, we understand that managing orders for toners and other consumables for your MFP is not your company's top priority. That's why we offer Xerox's free automatic supply service for your ink cartridges and toners, known as the ASR solution. This service optimizes your consumables inventory by monitoring toner and ink cartridge levels to automatically replenish your supply when needed, with e-mail notification when your consumables order is ready for shipment.
Xerox's main advantages with this free automatic replenishment service for your toners and ink cartridges are therefore:
considerable time savings when ordering consumables (toners and ink cartridges)
Save space, as there's no need to overstock toners or ink cartridges in your cupboards
Receive e-mail confirmation when a consumables order is ready for dispatch
Thanks to Xerox's ASR solution, you no longer need to worry about your toner and ink cartridge stocks, or place manual orders for these consumables, so you can concentrate fully on your business with complete peace of mind.
To check wether your printer is eligible to use the Automatic Supplies Replenishment system:
Consumables and maintenance kits
Wide choice of quality Xerox consumables
At D&O Partners, you'll find all the products and consumables available for your Xerox machines (or other brands), including maintenance kits, toners, drums, ink cartridges, used toner boxes, staples, paper, envelopes, dividers, etc. We have all the products you need.
To guarantee optimum results, however, we recommend that you opt for Xerox-compatible products, certified as high quality and specially designed for your Xerox MFPs and printers. Xerox products are manufactured to take full advantage of your machines, ensuring reliable performance and superior print quality. Feel free to explore our range and choose the right products for your Xerox printer.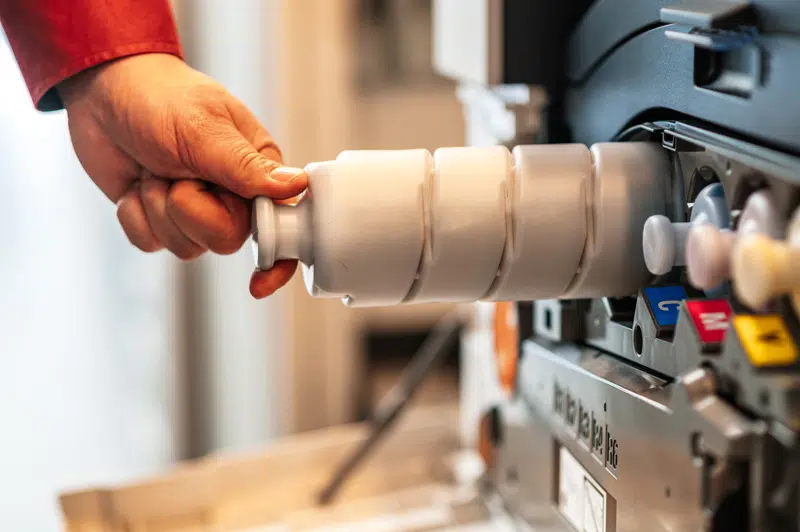 Maintenance kit for optimum printing
Regular maintenance is essential to keep your Xerox printer in good working order and maintain consistent print quality, which is why Xerox recommends the use of maintenance kits specially designed to keep your printer in top condition. Some parts need to be changed after a certain number of printed pages to continue to guarantee optimum print quality, which is why these maintenance kits include consumables such as the classic toners and drums, but also other spare parts depending on the Xerox printer model.
If you don't want to take advantage of our Page Pack maintenance contract or contact a technician for simple replacements, you'll need to use our maintenance kits from time to time to extend the life of your Xerox printer and get professional results every time you print.
EcoBox - Recycle your Xerox toners and other consumables
Xerox is committed to environmentally responsible business practices. The Xerox Green World Alliance is a valuable recycling program that makes recycling Xerox toners and ink cartridges easy and environmentally friendly. It minimizes the environmental impact of printer consumables and offers options for the disposal of empty toners and ink cartridges. Xerox recycling programs have prevented millions of pounds worth of consumables from ending up in landfill. We lead the industry in providing alternatives for used consumables, including reprocessing printer cartridges, reusing used toners, recovering plastic and metal, and converting waste to energy. Only original Xerox consumables can benefit from this recycling program.
This section aims to provide tips to help you clean, maintain and optimize your Xerox printer to ensure better performance and longer life.
How do I maintain a Xerox printer?
Regular cleaning: Regular cleaning of your Xerox printer helps to maintain optimum performance. Follow the instructions provided in the user manual to clean essential components such as printheads, feed rollers and paper guides. Use recommended cleaning products (description available on the Xerox website) to avoid damaging printer components.
Use a Xerox maintenance kit: Xerox maintenance kits are specifically designed to maintain the performance and reliability of your printer. They include commonly used consumables such as toners, but also less common ones such as fuser rollers and transfer belts, which can wear out over time and affect print quality. Follow the instructions in the maintenance kit to replace the necessary components, or call in our technicians.
Use quality consumables: For best results, use genuine Xerox toners or ink cartridges specifically designed for your Xerox MFP or printer model. Other cartridges that appear to be compatible with Xerox printers may be tempting because of their lower price, but bear in mind that they may compromise print quality and potentially lead to compatibility problems or even degradation of your Xerox printer.
Configurations and updates : Check the official Xerox website regularly for updates to your printer's firmware. Updates can improve performance, correct known problems and add new features.
These steps will help you maintain your Xerox printer in top condition and optimize its service life.
How do I set up a Xerox printer?
Online configurator: Our online configurator guides you step-by-step through the process of setting up your Xerox printer. Simply follow the on-screen instructions to connect your printer to the network, download the necessary drivers and configure the basic settings.
Dedicated technical support: If you encounter any difficulties configuring your Xerox printer, our technical support team is available to help you by answering your questions and providing the assistance you need. Contact us by phone, e-mail or directly online on our website!
Documentation and user guides: Xerox makes available (on the Xerox website) comprehensive documentation and detailed user guides for its different models to help you set up your Xerox printer. These free resources provide step-by-step instructions, troubleshooting tips and answers to questions you may have.
On-site installation services: If you'd prefer personalized assistance, we also offer on-site installation services (on or off service contract). Our qualified technicians will come to your company to configure your Xerox printer, carry out the necessary tests and provide training on its use.
How to contact Xerox and D&O Partners?
If you have any further questions about the maintenance of your Xerox machines or about your consumables (maintenance kits, toners, ink cartridges, …), please do not hesitate to contact our technical service via the dedicated page on our website, our team is here to help you!
Do not hesitate to ask for a quote!
We can deliver to you in Brussels and its surrounds within 48 hours!